Polymer clay orange flower tutorial – DIY step by step
Are you ready? It's time for a new tutorial. The theme of today is: polymer clay orange flower tutorial. And I guarantee this flower will be perfect for a ring or any jewelry you have in mind!
MelinArt Cakes has done such a good job that it is worth the public congratulations! Actually this tutorial is create from gum paste, but it can be done as well from clay. And if you go for the clay you'll have a great advantage your creation will last forever.
For this polymer clay orange flower tutorial you will need:
– two colors of polymer clay (orange and green)
– cutter and scissor
– roller ping or pasta machine
– toothpick
– drop cutter
– ball tool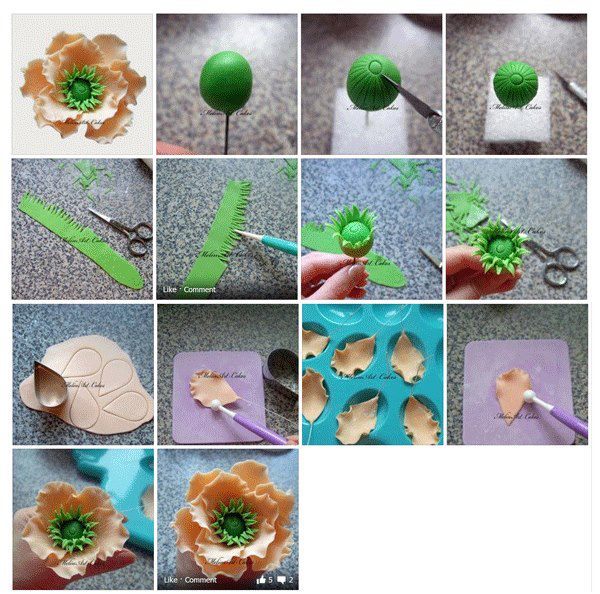 Step 1
Take a green piece of clay, create a ball and stick a toothpick in it. Create a small circle in the top of it and draw thin lines from it to the base of the toothpick. We will continue the project by creating a rectangular sheet and cut the fringes to one side. Then you have to stretch the tip of the fringes and apply the fringes piece of clay along the bud.
Step 2
For this step we will move to the orange color. First we will create a orange thin sheet of clay. Next we'll use the drop cutter to cut the clay in the petal shapes and the ball tool to gently curl the petal base. Repeat the curl process for each of the eleven petals. We are one small step far from finishing this beautiful polymer clay orange flower tutorial. We just have to apply the petals one by one to the bud and the job is done!
Whether you're browsing for inspiration or want something specific, I make it easy for you to get what you need. By following my Pinterest page you'll be updated with new ideas and free step by step DIY tutorials.