18K gold plated earrings
This world of handmade jewelry has developed a lot in the last years. You'll be amazed to find out that this collection of 18k gold plated earrings are entirely handmade. The artist who created the jewelry has a cozy Etsy shop EmbroideryClay .  If you are not convinced yet let's watch together the collection and I bet that at the end of it you will definitely want to have minimum a pair. And since some of you already know that you desperately need them in your jewelry box I invite you to visit the online shop.
18K gold plated earrings One of a Kind Bush Blossoms on a Misty Green Background Flowers Jewellery Handmade in Italia Australia Statement Earring
Triangle Earrings Bush Blossoms on Mist Green Background 18K Gold Plated one of a kind Jewellery, grandma gift Australia Statement Earring
Polymer Clay Earrings Flowers Statement Earrings Clay Dangles Handmade Floral Design 18K gold plated Earring posts backs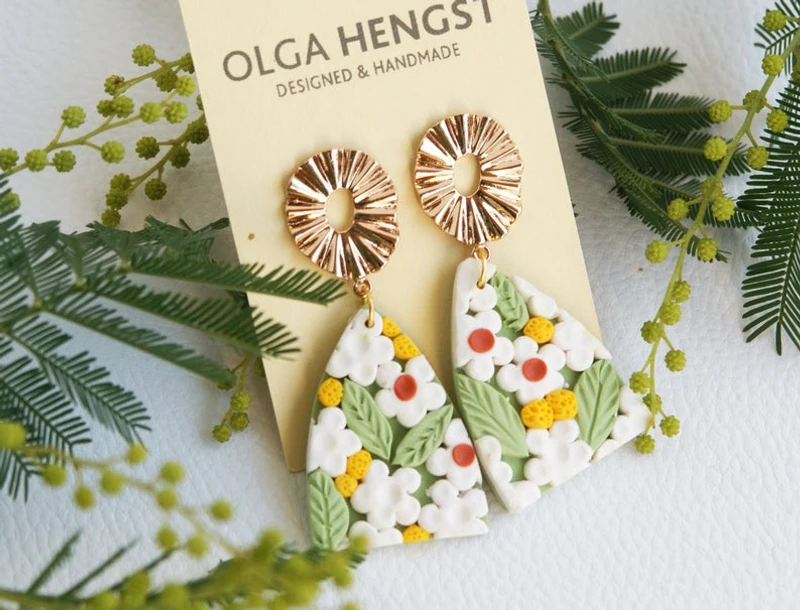 Polymer Clay Earrings, 18K gold plated Earring posts, Hand-painted Earrings, Dangle Earrings, Clay Statement Earrings, Floral Flowers
Turquoise Polymer Clay Earrings,Dangle earrings, Clay earrings, Statement Earrings, Floral earrings, 18K Gold Plated, wildflowers jewellery
One of a Kind – Blossoms on a Misty Pink Polymer Clay Earrings, Hand-painted, Dangle Earrings, Statement earrings Floral, Flowers 18K Gold
Any of this handmade 18k gold plated earrings will make a perfect gift for any woman. You don't need a special occasion for the womans in your life, you can always create one!
Did you enjoyed this collection of 18k gold plated earrings? I'm always open to suggestion, please leave a comment. Your opinion is valuable for me.
Thanks for your visit! Whether you're browsing for inspiration or want something specific, I make it easy for you to get what you need. By following my Pinterest page you'll be updated with new ideas and free step by step DIY tutorials.