Polymer clay chef DIY step by step tutorial
There's something special in this phrase – "home cooked meals". I always believed that home cooked meal is a good way to balance things out and ensure quality family time. The reality is that I may not have the time or energy to cook like that every day. For some people cooking is a way to relax, but for me the best way is to play with fimo and create little dreams. Since I began to use fimo, I've been trying to portray everything.
We all have that friend with culinary pleasure. Does not matter the season, the time or the event,  she/he is in the kitchen in every single occasion. This article and product is for mine. You can surprise your friend with this fimo chef figurine by following this free dyi fimo tutorial. Never assume you have no relevant experience or knowledge. Many skills are about perseveration, life experiences will help you even if they seem to be worlds apart.
Don't forget to follow my Pinterest page to get updates on free fimo diy tutorials.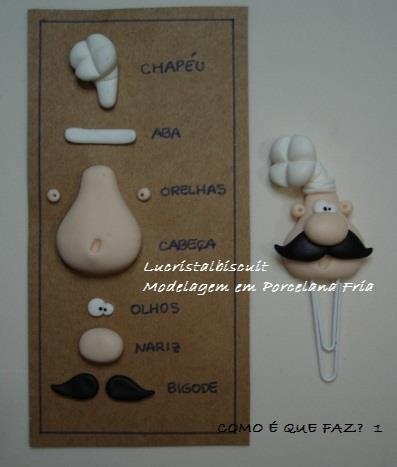 Things you need for making a fimo chef:
-three colors of fimo: white, beige, black
and a lot of passion or a good reason!
Bellow you can find photos with steps use them as a model to create your own polymer clay chef figurine.
Fimo is for my the best way to relax and feel free. My mind flies beyond barriers and my hands creates the impossible. Go find your passion and let's make a polymer clay chef figurine.
Great job lucristalbiscuit!!!
######