basic polymer clay cane tutorial
For the beginners in the polymer clay art, I come with a simple idea: a basic polymer clay cane. You can use this tutorial to create polymer clay jewelry covered in canes. You can combine multiple colors and the effect is guaranteed!
For this basic polymer clay cane tutorial you will need:
– 2 colors of polymer clay
– pasta machine
– cutter
Step 1
Choose a color of polymer clay and mix it with your hands to avoid creating air bubbles. When it has an average consistency you have to pass it through the pasta machine and create a perfect flat sheet. Take the second color and repeat the process.
Step 2
Take the fist sheet and cut a square out off it. Take the square and putt it on the second sheet. Then cut the excess of the clay. It is easier with a square cutter, but I guess you are a beginner and you don't have a square cutter.
Step 3
To prevent having one color concentrated in the middle, you have to slowly cut one edge of the sheet. Use the following photo as an example. Roll the sheet starting from the thinner edge. You now have a simple polymer clay cane and of course you can use it like that, but you can stay one more minute and have a more impressive one.
Step 4
Take the cylinder you created the step before and with the thick edge cutter press it in the half until you get to the center of the cylinder. Twist the cylinder and repeat the process. Now your cylinder is almost speared in two pieces. You have to repeat the process with the think edge of the cutter for 3 times for each half. Below are step by step photos of the process.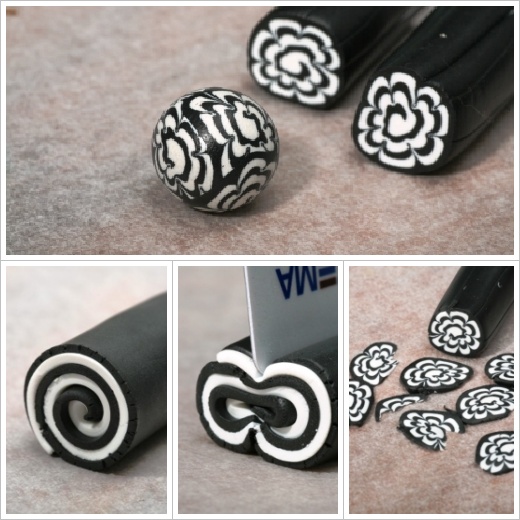 And this is the basic polymer clay cane using blended colors.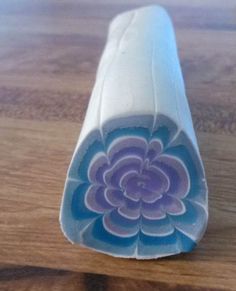 You may think  this basic polymer clay cane tutorial it's to simple to impress, but the success of the project depends on your mood and I hope you are in the creative mood! Here are some ideas to dismantle your thoughts: you can use this basic polymer clay color blends tutorial instead of one color sheets or you can use multiple colors for a better effect.
I hope you enjoyed this basic polymer clay cane tutorial. For more polymer clay tutorials click here.
Get captivating polymer clay new ideas and tutorials by following my Pinterest page .