Polymer clay modern earrings
Check out this collection of polymer clay modern earrings. This unique and stylish pieces are waiting for you to take them home. The good news is that all of this handmade earrings are for sale on a classy Etsy shop Artbymont.
Any of this modern earnings will be a great gift idea for a special women who loves to be unique.
Polymer clay modern earrings
Beautiful Clay Earring, handmade earring , Polymer clay earring, raw brass charm earring, unique earring, modern Earring, tree leaves charm earring
Clay Earring, Polymer clay Earring, handmade clay Earring, Leopard print Earring, brass charm Earring, Unique Earring
Handmade earring, stylish earring, beige earring, raw brass sun charm earring, unique earring, copper color earring
Clay earring, handmade earring, Tree Leaves charm earring, modern Earring, delicate design earring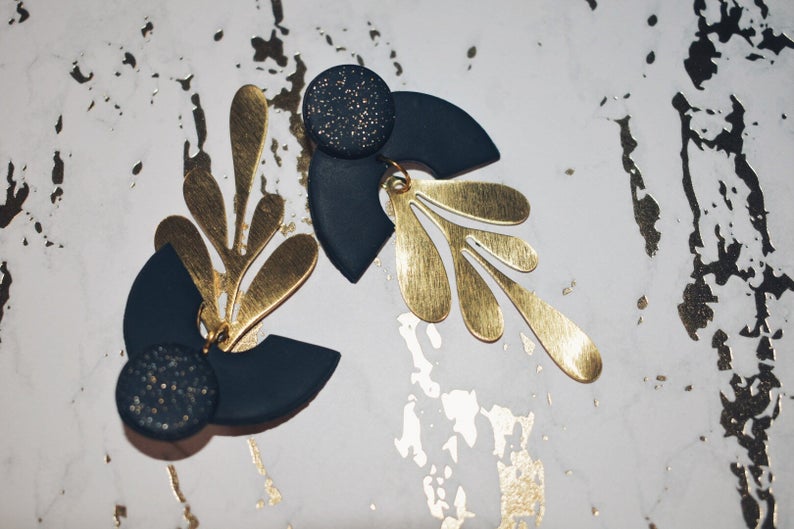 Polymer clay modern earrings, clay earring, black and gold earring, unique polymer clay, boho style earring, modern earring, clay statement earring
Fashion and modern earring, long earring, unique earring, Blue earring, summer earring, marble earring, statement earring
Clay Earring , Polymer clay handmade jewelry, unique earring, fashion and cool earring
Cool and modern earring, high quality handmade jewelry
What do you think about this collection? Which one of this polymer clay modern earrings is your favourite? I'll go for the leopard pattern 😉
Click here for free dyi fimo/polymer clay tutorials and save the link on your bookmarks because you will definitely want to check it frequently for ideas and inspiration.
Until next time I wish you all to be creative! I'm always open to suggestion, please leave a comment. Your opinion is valuable for me.
Thanks for your visit! Whether you're browsing for inspiration or want something specific, I make it easy for you to get what you need. By following my Pinterest page you'll be updated with new ideas and free step by step DIY tutorials.